In December 2018, Eliane and Didier Laville celebrated Christmas in Senegal. Even if, having lived there for 2 years, they well know Africa, they want to return there as often as possible. Since Didier's have bought the Ergo 07L wheelchair to make his travels easier, they can now organize their escapades without difficulty. Testimony:
How did you discover ErgoConcept?
Eliane: Whereas we were on vacation, we heard about the existence of a light, foldable electric wheelchair. It immediately caught our attention, and as soon as we got back, we contacted our medical equipment advisor in Aubagne. He then introduced us to the Ergo 07L model, which immediately appealed to us.
Why did you appreciate this model?
Eliane: My husband has been paralyzed on his right side for seventeen years, and we already have two chairs: one manual and one electric, which are very heavy for me. When we realized that it was possible to have a small electric folding chair, we immediately thought that it would be perfect to make life easier for us in a lot of situations.
What kind of situations ?
Eliane: The car, for example! Until now I had to use a complicated lifting arm to put the wheelchair in the car. I never really knew how to use it anyway. We've just bought a smaller car, and it really relieves me to have a model that fits in the trunk without any problem. Now it's easier to go to the movies or out to dinner…
Didier: I now have more autonomy. On the one hand, we can move around all day enjoying any activities (editor's note: Ergo 07L autonomy: 12 km/24 km with the 2nd battery as an option). And on the other hand, every Tuesday morning, there is the Aubagne market where I can go on my own. Same for my daily shopping like going to the bank or other …
You just come back from Senegal, how was it?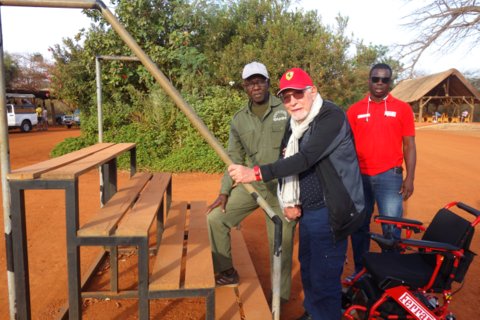 Eliane: When we were younger, we lived in Africa for 2 years, and we try to go back as often as possible because it brings us back good memories. We recently sold our house to allow us travelling and we really enjoy it! We actually just came back from Senegal where we spent a very good Christmas with a friend who lives there, and we even went on a Safari about 80 km from Dakar, it was great. We put the chair in charge during the night at the hotel, it's very practical.
Didier: It's true that Dakar has changed a lot in the last 30 years, there are a lot of people, so we try to do new activities. I really enjoyed the safari where we saw rhinos, crocodiles, giraffes etc… We left in a truck, there was a staircase for me, it was very well organized. Also, we went to visit the island of Gorée not far from the city, a symbolic place of memory of the slave trade in Africa, very interesting. Generally speaking, the people there are very welcoming, they have a lot of respect and it's very pleasant to communicate with them. We also went to Rabat, Casablanca and so on.
Any other good memories?
Eliane: Absolutely, we try to organize a cruise every year. We've already been to Reunion Island, Madagascar, the Seychelles, Mauritius, and this summer, we plan to go to Corsica. I remember that during a boat trip, Didier had a lot of success with his Ergo 07L. Indeed, he stuck "Ferrari" stickers on the side, and as we chose a red model, it attracted people's attention and made them laugh a lot…These are quite funny situations and we play the game with pleasure.