Alice and her father Jean form a great duo… Sociable, creative and passionate, they love to spend time together and enjoy their city, Tours, while strolling between parks, museums and the banks of the Loire River. For more than 3 years, Jean acquired the Ergo 09L model to facilitate his travels and according to Alice, "it's happiness!" She testifies:
How did you find out about ErgoConcept?
Alice: In 2015 my father had heart surgery and since then he can't walk as he used to. So we initially bought a manual wheelchair. I accompanied him as many time as possible, but it wasn't easy because I was working in Paris and above all, it was getting harder and harder to push him. One evening, I finally blocked my back with this chair and I decided to look for a comfortable and ergonomic model on the Internet. As soon as I found ErgoConcept, I sent an email to get some information. The next day, the regional sales manager was at home to let us try out his solutions… I've not a "technical profile" and I hate calling for help all the time, so I particularly liked being able to fold it easily! I grab it, put it in the trunk of the car and that's all ! I can deal with it ! As for my father, he immediately took it in hand the joystick! It was funny, it started at full speed… We were seduced.
How has the acquisition of the Ergo 09L improved your daily life?
More FREEDOM, more AUTONOMY!!!!! My father is over the moon… Before, he was like "in prison", locked up in his apartment. He has so many friends, always ready to go out… I felt sorry for him. Today, I can't follow him anymore… for my greatest happiness.
Also, a few months ago, my father left his apartment for a "comfortable" senior residence in Tours. As he could no longer take the stairs of our building, he needed a more suitable environment. Today, we are delighted with this choice, I would almost say that it looks like "Club Med" (French holiday club). He keeps his Ergo 09L in his room and is wandering around in every nook to attend all activities. He's a bit like the "king of the house" (laughs), he's known as the "white wolf" because he's very sociable. An outing to Brittany has even been organised recently… It was great !!! We feel like a big family in this residence. On the other hand, when I see how heavy some of the other residents' equipment is, I think we're very lucky!
What activities can you now do with your father?
We walk around all the time! Like him, I recently changed my life too. I came back to live in Tours to see him as often as possible… We discovered all the zoos in the region, visited museums, castles (especially Villandry with its magnificent gardens), went to the Christmas markets, etc… it's a real pleasure! We also love to stroll in the alleys of Truffaut (editor's note: a big specialist shop in gardens, animals, …) and now, I'm tired much before him! It's a huge shop and my father is able to stay there all afternoon. As a result, I end up sitting in a corner and waiting for him (laughs). He was a horticulturist, so for him, it's "Disneyland"… I often see him coming back, like a child, with huge bags of seeds or other things on his knees… This allows him to maintain his magnificent balcony at the residence… He could take part in the flowery competition (laughs).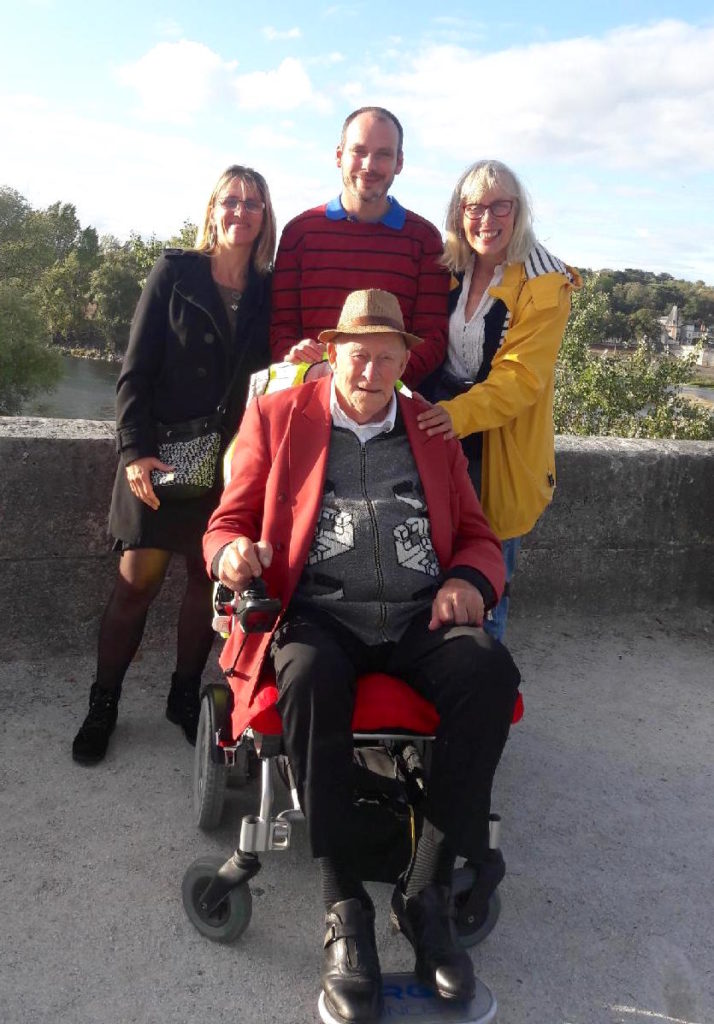 Furthemore, the city of Tours offers a top service: le fil blanc, a personalised door-to-door transport service dedicated to people with reduced mobility! It's really practical, he takes a truck with his wheelchair, and he can easily come and see me at home. He is in total autonomy.
Any other projects?
Yes of course… Including a very special project for my father! In May, my son is going to have his first baby, and my father absolutely wants to go and see his great-grandson !!! So we are planning to drive to Périgueux to participate in this unique moment. He is very keen on it. We'll put the chair in the trunk and try to make the most of this family getaway…
What would you like to improve on the chair?
My father is big and strong, Dutch by birth … we would have liked the front wheels to be bigger to avoid tipping over, especially on some pavements. That said, we are very satisfied with our technical advisor for medical equipment, Fabrice. He moves at the slightest problem, he's adorable.